Modern Vespas
From scoot.net
In the late 1990s, Piaggio decided to make a new series of Vespas that integrated traditional monocoque steel bodies with automatic engines. In 1999 Piaggio announced plans to reenter the United States market and sell these new Vespas in America.
Features of the New Models
All of the modern Vespas featured a front disc brake, electric start, and room for a pillion passenger.
Models
ET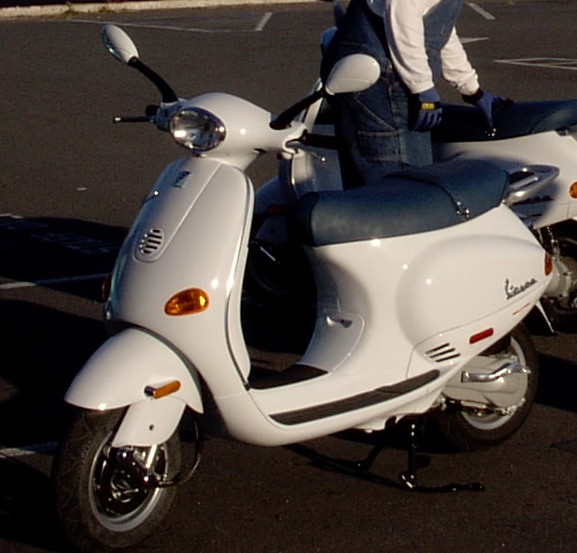 The ET series was the first modern Vespa introduced to the American market. It came in two versions, the ET2 - a 50cc 2 stroke and the ET4 - a 150cc 4 stroke.
Both have 10 inch wheels, as did the P Series, although the ETs have wider tires.
Initially it came in about 8 different colors, but Vespa USA narrowed down the color choices in an attempt to simplify their spare body parts selection.
GT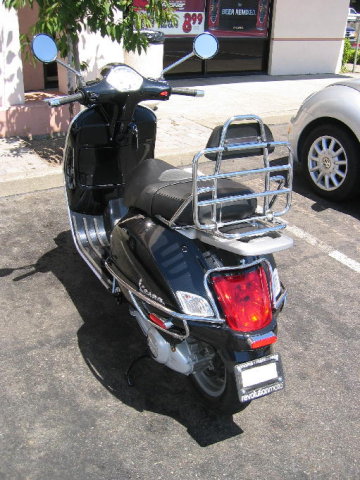 The second new Vespa model to be introduced was the GT series. Vespa USA didn't think the United States could use a 125cc model, so they started America off on the GT200L Granturismo - a 200cc 4 stroke with dual disc brakes. It was the first new Vespa to feature a radiator in the front end, for liquid cooling.
This model was initially offered in three colors: vintage green, grey, and black. It was later offered in limited runs of white and silver.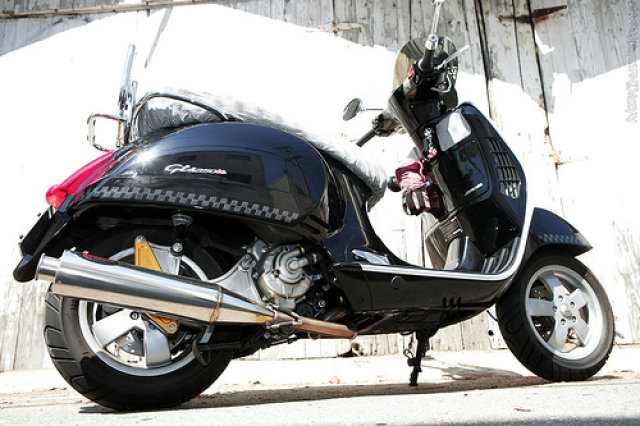 Vespa then introduced the GTS250ie - a 250cc 4 stroke. This model also had dual disc brakes, but introduced fuel injection, a digital speedometer, and a fog light in the horncast.
It was offerred in red, as well.
LX
Vespa released the LX model to replace the ET series. Its initials commemorate the 60th anniversary of the Vespa.
The styling was more angular than the egg-looking ET.
LX150 - a 150cc 4 stroke print | close window

LX 50 Specifications Price MSRP $3,199*
LX 150 Specifications MSRP $4,199*

Chassis Frame Type Load-bearing steel chassis with welded structural supports
Engine Type
LX50 = Single cylinder, four-stroke catalytic Hi-PER4 49.4cc Bore x stroke 1.54" x 1.63" (39 mm x 41.8 mm) 3.1 kW at 8,750 rpm max torque - 3.5 Nm at 6,500 rpm max speed - 39 mph (62 km/h) Gas Mileage 70-80 mpg**

LX150 = Single cylinder, four-stroke catalytic LEADER 150cc 2.46" x 1.91" (62.8 mm x 48.6 mm) Max power at shaft 8.7 kW at 7,750 rpm (11.7 CV) Max torque 11.5 Nm at 6,000 rpm Max speed 59 mph (95 km/h) Gas Mileage 72 mpg** Fuel/Tank capacity Unleaded 91 min octane / 2.3 gallons (8.6 liters)
Distribution Cam head single shaft-SOHC (2 valves) Cooling system Ram air with sound proof cover Ram air with sound proof cover and integrated SAS (Secondary Air System) Lubrication Wet sump, 850cc capacity; chain-driven lobe pump; intake and delivery filters Wet sump, 1,000cc capacity; chain-driven lobe pump; intake and delivery filters Ignition Electric and kick start Gears CVT transformer with torque slave Clutch Automatic dry centrifuge with damper buffers Type approval EPA and CARB Weight and Dimensions Seat height 30.5" (775 mm) Dry weight 225 lbs (102 kg) Length/Width/Wheelbase 69.1" (1,755 mm) / 29.1" (740 mm) / 50.4" (1,280 mm) Wheels and Tires
Front tire/Rear tire Tubeless 110/70-11"/ Tubeless 120/70-10"
Suspensions and Brakes Front suspension Single arm with helical spring and dual effect hydraulic single shock absorber Rear suspension Coil spring and dual effect single shock absorber Front brake 7.87" (200 mm) ø steel disc with hydraulic command Rear brake 4.33" (110 mm) ø drum with mechanical command
Warranty Warranty One year factory warranty and 24-hour roadside assistance.
All prices shown are MSRP (Manufacturer's Suggested Retail Price). Freight/destination, tax, license, title, or other dealer charges and optional or regionally required equipment (e.g., helmet) are excluded. Pricing, standard features, specifications and available equipment are those in effect when the page on which the information appears was produced and are subject to change without notice. Obey local traffic safety laws and always wear a helmet, appropriate eyewear and proper apparel. Speed achieved by a professional rider on a closed track. Actual speed may vary depending on street surface, weather and other local conditions. Some images may reflect European models. Sidestand not available on U.S. versions. See the LX in person at your local dealer.

Based on tests conducted under lab conditions. Mileage will vary depending on vehicle condition, weather conditions, rider weight, and personal riding style.
New Retro Models
Apparently, the people at Piaggio decided the new modern Vespas were not retro enough. They designed new models based on the current modern Vespa lines of GT and LX with modifications to make them appear more retro.
GT60
The first one is the GT60. It is based on the GTS250ie.
At the time of its USA release, the official Vespa USA's website had this to say about it[1]
Celebrate Vespa's 60th Anniversary with a special Vespa of your own: the limited edition Vespa GT60°. Only 999 units will be available worldwide and only 250 in the U.S., with each one receiving a limited edition badge identifying its production sequence.
Sophisticated materials and customized elements have resulted in a unique, limited-edition product that will surely be a landmark in Vespa history. The Vespa's own history has directed every design choice. Cleverly re-interpreting some of the typical design and technical elements of vintage Vespas, particularly the earliest models of the 1940s and 1950s, this one-off vehicle evokes the romantic, timeless appeal of the Vespa. Uniting the past with the present, the GT60° combines a modern engine with vintage Vespa details for a classic vehicle made even more special with its individual production number.
Underneath the classic steel body resides a modern engine, but the heart of the GT60° lies in its details. The headlamp is on the front mudguard, as it was on the very first Vespa prototype, exactly as the original Vespa designer, Corradino D'Ascanio, had positioned it. A similar change has been made to the handlebar, a simple, visible metal tube as on the very first Vespa prototype - a clearly motorcycle and bicycle derived choice that could be seen on all early Vespas.
The saddle has also been retro-designed. The Vespa started out as a single-seater that could be changed into a two-seater. The GT60° pays homage to the two-seater and is split into two distinct parts, one for the rider and one for the passenger. Upholstered in black leather exactly like the 1946 version, with stylish visible stitching, re-emphasizes the attention to detail and skills of Italian leather craftsmen. Even the paint color was chosen with care: The color is an exact replica of the first gray used on the original model - named Gray 725.[2]
GT60 Specifications Price MSRP $7,299* Specifications ENGINE TYPE Single cylinder Q.U.A.S.A.R. four-stroke, four-valve, electronic injection, with catalytic converter DISPLACEMENT 244CC BORE / STROKE 2.8" x 2.36" (72 / 60 mm) MAX POWER 16.2 Kw at 8,250 rpm (22 CV) MAX TORQUE 20.2 Nm at 6,500 rpm MAX SPEED 76 mph (122 km/h) FUEL / TANK CAPACITY Unleaded / 2.4 gallons (9.2 litres) DISTRIBUTION Cam head single shaft - SOHC INJECTION P.I. (Port Injected) alpha/N type injection with a closed loop system including a lambda probe in the exhaust and a three-way catalytic converter IGNITION Inductive discharge, variable advance, 3-D map electronic ignition COOLING Liquid LUBRICATION Wet sump, chain-driven lobe pump, intake and delivery filters STARTER Electric GEARS CVT transformer with torque slave CLUTCH Automatic dry centrifuge with damper buffers LOAD-BEARING CHASSIS Load-bearing steel chassis with welded structural supports FRONT SUSPENSION Single arm with twin chamber hydraulic shock absorber and coaxial spring REAR SUSPENSION Helical springs with adjustable preload (four positions) and dual effect hydraulic shock absorbers FRONT & REAR BRAKE Ø 8.66" (220 mm) disc FRONT TIRE / REAR TIRE Tubeless 120/70-12" / Tubeless 130/70-12" REAR TIRE Tubeless 130 / 70, 12" LENGTH / WIDTH 76.4" (1,940 mm) / 30.3" (770 mm) WHEELBASE / SEAT HEIGHT 54.9" (1,395 mm) / 31.1" (790 mm) SEAT HEIGHT 31.1" (790 mm) DRY WEIGHT 322 lbs (146 Kg) TYPE-APPROVAL EPA and CARB Warranty Warranty One year factory warranty and 24-hour roadside assistance. Extended Warranty Two year factory extended warranty available. Please see your dealer for details.[3]
Vespa S
A new Vespa inspired by the 50 Special Smallframe
Future Plans
Vespa is developing a Hybrid electric / gas model.
External Links