P Series
From scoot.net
The P or PX Series of scooters by Vespa replaced the Rally series in 1977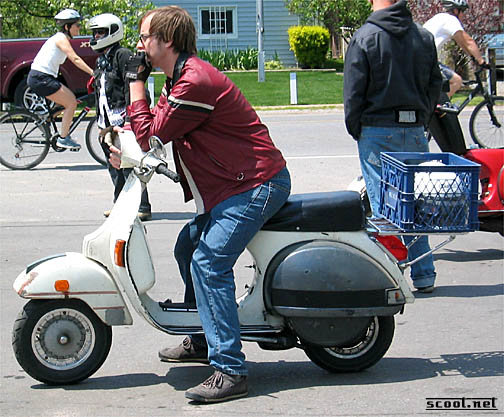 Models
It has been to many countries around the world, being a very good scooter for distance touring. [1]
Timeline
1977
It was first introduced in 1977 without blinkers. However, indicators were added soon thereafter.
1983
It was changed to the PX series in 1983, but PX series Vespas are still referred to as P Series. PX series Vespas are recognizable by their locking, latching cowls that operate with levers under the front of the seat as well as their gas guages.
1985
During the mid-1980s, after Piaggio's official pull out from the United States market, a small batch of PX150E Elestart models were imported through Vespa of Chicago and a small number of dealerships associated with it. These are typically registered as 1985 or 1986 models and are noticable due to their US DOT spec taillights. Their electric start and relative young age make them desirable Vespas to own.
2002
It was reintroduced to the United States in 2002 in the form of a clone the Stella from Genuine Scooter Co.
2004
Following the success of the Stella, Piaggio reintroduced its own PX150 to the United States and Canada. First, it released 500 'Vintage Green' models to the United States as "Serie America." The Canadians recieved a similar "Serie Canada" that were 'Smoky Grey' and limited to 350 units. These special edition models were issued with numbered badges on the gloveboxes and hardcover history of Vespa books or leather logo-embossed courier bags. Shortly thereafter, Piaggio USA sold more PX150s in red and grey. However, the $4400 MSRP, rumors they were made in Taiwan, along with a market competition in the form of Bajaj and Stella, combined to create a lukewarm response among America's vintage scooterists.
2007
Vintage scooterists wish and hope the PX will live on with either a 4 stroke engine or a cleaner, direct injection 2 stroke to meet tightening emissions regulations.
Displacements
125cc
150cc
200cc
125cc T5
80cc (German Market Only)
Parts List
Bearings
Flywheel side bearing - 38x25x15
Clutch side bearing - Can't find a size SKF# 613912 C3
Rear hub bearing - 15x42x13


As far as I know, the clutch side bearing is a Piaggio proprietary bearing. I don't thing it's available from bearing stores. There's one that's very close but, it's to big. It will jam up your crank if you try to use it. The flyside might be the same story too.
Seals
Clutch side seal - 31x62x5.8/4.3
Fly side seal - 24x35x6
Rear hub seal - 27x47x6

External Links