Honda Ruckus
From scoot.net
The Honda Ruckus is a modern twist-'n-go scooter made by Honda It has relatively few pieces of plastic bodywork for a modern scooter.
It is available in 50ccs and was briefly available as a 250cc Big Ruckus.
It is notoriously slow due to its 50cc displacement. It is difficult to tune due to its combined cylinder and engine case.
It is called the Zoomer in the world market.
A 125cc version is in the works.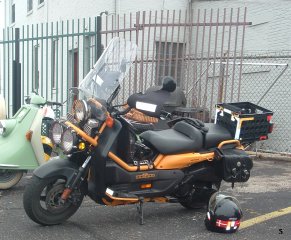 Big Ruckus in yellow