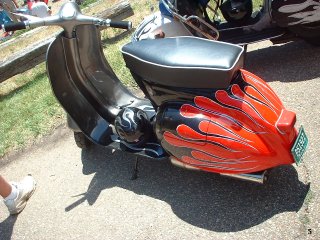 These pictures were taken at Mile High Mayhem 2003 by various people, they are arranged by photographer.

There are 2557 pictures in this gallery.

You can see a list of which pictures people have added comments to at the picture comments page or view all the thumbnails on one page.

Rally Sponsors included:

There is a patch for this rally in the patch gallery.


super_suzi 20 Pictures tiny thumbnails - slideshow
dana_in_slc 85 Pictures tiny thumbnails - slideshow
Big_Al 57 Pictures tiny thumbnails - slideshow
scooteryenta 37 Pictures tiny thumbnails - slideshow
Funk 169 Pictures tiny thumbnails - slideshow
David_Schuttenberg 62 Pictures tiny thumbnails - slideshow
AlexM_from_Casa_Lambretta_USA 46 Pictures tiny thumbnails - slideshow
MrDanger 167 Pictures tiny thumbnails - slideshow
Boobs 13 Pictures tiny thumbnails - slideshow
Pam_Strong 37 Pictures tiny thumbnails - slideshow
Porkchop 25 Pictures tiny thumbnails - slideshow
kristed_777_at_the_races 23 Pictures tiny thumbnails - slideshow
Mike 21 Pictures tiny thumbnails - slideshow
David_Rinella_in_DCD 118 Pictures tiny thumbnails - slideshow
Cindy_Shattuck 50 Pictures tiny thumbnails - slideshow
bUd_cameraphone 50 Pictures tiny thumbnails - slideshow
Bill_in_SLC 248 Pictures tiny thumbnails - slideshow
AaronX 25 Pictures tiny thumbnails - slideshow
akyanaQuicktime_racing_clips 0 Pictures
Christerious 55 Pictures tiny thumbnails - slideshow
rOmerO 9 Pictures tiny thumbnails - slideshow
huffy_and_nelly_cam__CDSC__SSSC 128 Pictures tiny thumbnails - slideshow
el_Santo_Mas_Guapo 2 Pictures tiny thumbnails - slideshow
TW_from_NYC 35 Pictures tiny thumbnails - slideshow
Robin_Denver 31 Pictures tiny thumbnails - slideshow
Phil_Lombardo 88 Pictures tiny thumbnails - slideshow
Fuckin_Steve__Thursday_through_Saturday 207 Pictures tiny thumbnails - slideshow
kristed_777_NYC 24 Pictures tiny thumbnails - slideshow
Fuckin_Steve__Saturday_Through_Tuesday 116 Pictures tiny thumbnails - slideshow
Rudi19 36 Pictures tiny thumbnails - slideshow
GMP_DCD 24 Pictures tiny thumbnails - slideshow
demonstodenver 11 Pictures tiny thumbnails - slideshow
aidan 100 Pictures tiny thumbnails - slideshow
Scooteryenta 22 Pictures tiny thumbnails - slideshow
ACE_ 21 Pictures tiny thumbnails - slideshow
Matt_MegaC_Bat_TeaserSat_Breakfast 14 Pictures tiny thumbnails - slideshow
Jsun 37 Pictures tiny thumbnails - slideshow
Jedi_Kyle 69 Pictures tiny thumbnails - slideshow
David_Rinella_NYC_to_DCD 44 Pictures tiny thumbnails - slideshow
Jedi_Keith 185 Pictures tiny thumbnails - slideshow
akyana 10 Pictures tiny thumbnails - slideshow
jenn_martinez 20 Pictures tiny thumbnails - slideshow
Fatmeanman 16 Pictures tiny thumbnails - slideshow