These pictures were taken at Boston Stranglers Scooter-Addict National Convention 2004 - 2004 by various people, they are arranged by photographer.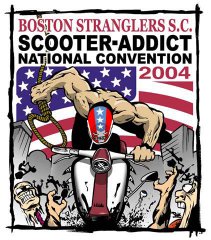 Rally Sponsors included:
Boston Vespa
Boston Scoot
Javaspeed Scooters
Warrior Clothing
Scenic City Scooters
Glen Reid
Spit Shine International
Wurth, and more!
You can see a list of which pictures people have added comments to at the picture comments page or view all the thumbnails on one page.

There is a patch for this rally in the patch gallery.


drg 29 Pictures tiny thumbnails - slideshow
elmcitydave 100 Pictures tiny thumbnails - slideshow
MikeScott 40 Pictures tiny thumbnails - slideshow
Lady_J_from_NJ 25 Pictures tiny thumbnails - slideshow
Greyson_BSSC 61 Pictures tiny thumbnails - slideshow
Justin_Grant 39 Pictures tiny thumbnails - slideshow
Eric_R 11 Pictures tiny thumbnails - slideshow
nedward 21 Pictures tiny thumbnails - slideshow
MikeScott_BW_ 11 Pictures tiny thumbnails - slideshow
Dirty_Water_Motorsports 1 Pictures tiny thumbnails
Morgan 102 Pictures tiny thumbnails - slideshow
Shana 26 Pictures tiny thumbnails - slideshow
Mattie 12 Pictures tiny thumbnails - slideshow
Joe 21 Pictures tiny thumbnails - slideshow
EricD 72 Pictures tiny thumbnails - slideshow
ramsay 50 Pictures tiny thumbnails - slideshow
Boston_Stranglers 1 Pictures tiny thumbnails
JediGregory 100 Pictures tiny thumbnails - slideshow
SiD 8 Pictures tiny thumbnails - slideshow