Previous
link to this pic
start slideshow
Next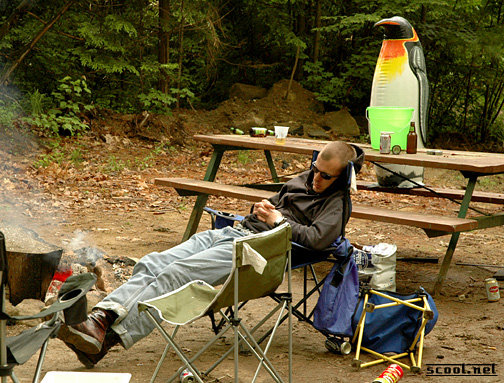 Previous
link to this pic
start slideshow
Next
---
amanda Date: 2005-06-23 20:35:43
Comments: what Greyson *doesn't* know is that we've replaced his regular coffee with Folgers Crystals....

---

JenStich Date: 2005-06-21 12:57:09
Comments: Burma!

---

SiD Date: 2005-06-20 19:06:35
Comments: This is The Stranglers' own Greyson. If you looked closely, there was drool making it's way out of the corner of his mouth that (Sunday) morning.

---

MikeS Date: 2005-06-20 17:51:17
Comments: It's just 6:30am on Sunday morning - woke up early both Sat & Sun to find one person sleeping in a chair by a fire...

---

scott b Date: 2005-06-20 17:06:42
Comments: I think this shot reminds me of Hitchcocks "The Birds" a little more than the other.

---
If you would like to leave a comment for this picture please log in.