Previous
link to this pic
start slideshow
Next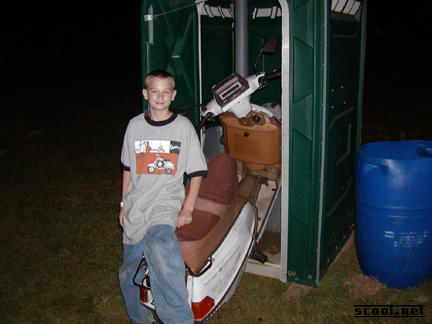 Previous
link to this pic
start slideshow
Next
---
Sean Theobald Date: 2002-09-22 18:45:15
Comments: although tom sure tried! (the head trauma thingie)

---

Date: 2002-09-12 09:34:45
Comments: Or maybe the Riva IS poo?

---

Chelsea Date: 2002-09-11 18:18:33
Comments: mebbe th' riva really had to poo. he might have been doing your rice a favor!

---

John Stafford Date: 2002-09-11 18:17:50
Comments: Well I did get to kick the ass of an 11 year old for messing with my bike.

---

Chelsea Date: 2002-09-11 18:12:37
Comments: Summit Point checklist:
Hide Stafford's scooter: check!
burn lots of somethings: check!
head trauma: no, I guess we missed that one this year. dammit!

---
If you would like to leave a comment for this picture please log in.