Previous
link to this pic
start slideshow
Next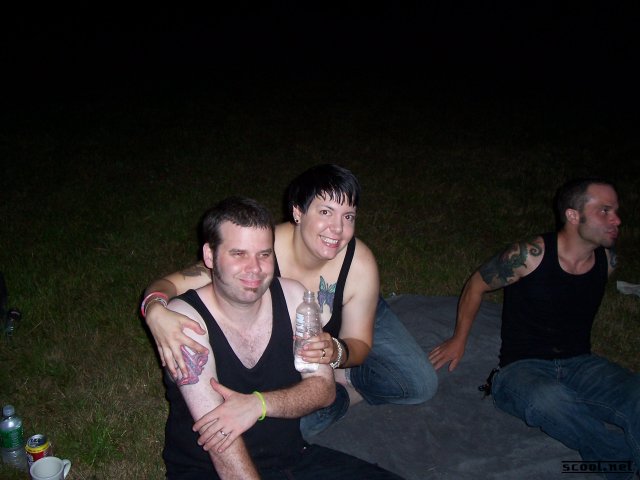 Previous
link to this pic
start slideshow
Next
---
Aimee Date: 2006-07-21 14:57:15
Comments: Glad that's all resolved, I was feeling pretty guilty for posting it ... I thought it was a cute picture!

---

Cathy Date: 2006-07-21 14:34:12
Comments: Thanks, Chris..How the Hell are you ?? We missed you at the rally. Thanks for your post. I know I do look like a man in that pic due to the sweaty / buggy no-makeup rally, but jeez I was offended. Thanx for your e mail !!
Don't Scott and Pete look like brothers ?? Too funny.
Anyway , we miss you..feel free to send some pics of the babies to our e mail we'd love to see them !!!!!

---

MikeScott Date: 2006-07-21 06:35:44
Comments: I knew that Black Tank Top Night might lead to some confusion. I'm sure glad everyone was correctly paired up before retiring to their tents... ;)

---

scootermonkey Date: 2006-07-20 22:30:48
Comments: Pete and Cathy, First off it was me who posted that. What I meant to say was that your wife and the man directly behind her look similar because of the same black tank top and and blue jeans. I see now that it came out all fucked up and wrong. For that I am trully sorry. I am now banning myself from posting on scoot.net. Secondly I was posting from my wife's computer so my login name was not in the computer for some reason. Ps. I don't think that you smell Cathy.
Chris

---

Don Date: 2006-07-20 20:39:27
Comments: Pete, we all knew it was an incredibly rude thing to say. It was a dumb thing to say, so try not to sweat it. We enjoyed the rally and I'm glad we met. Your paint work is awesome and gave me a boost to get to some of my stalled projects.

---

Stan Date: 2006-07-20 20:07:57
Comments: that was a dick thing to say. post your name next time.

---

Pete Date: 2006-07-20 15:43:43
Comments: comments from assholes like you make me wonder why I bother to take two days out of work to help build the gymkahna. Not to mention the nights I spent working on custom painting helmets for rally giveaways. I help lead rides and stop to assist fellow scooterist who breakdown. All my efforts go into making this yearly rally enjoyable for everyone. Fucking comments from a coward afraid to post his name sours my enthusiasm for the next rally.

---

Cathy & Pete Date: 2006-07-19 21:28:35
Comments: Thanks..VERY NICE.

---

Date: 2006-07-18 14:32:00
Comments: I think it's because he just realized that his wife looks like a man.

---

Cathy & Pete Date: 2006-07-18 13:56:29
Comments: Why does Pete have that look on his face ?? Do I smell or something ???

---
If you would like to leave a comment for this picture please log in.