Previous
link to this pic
start slideshow
Next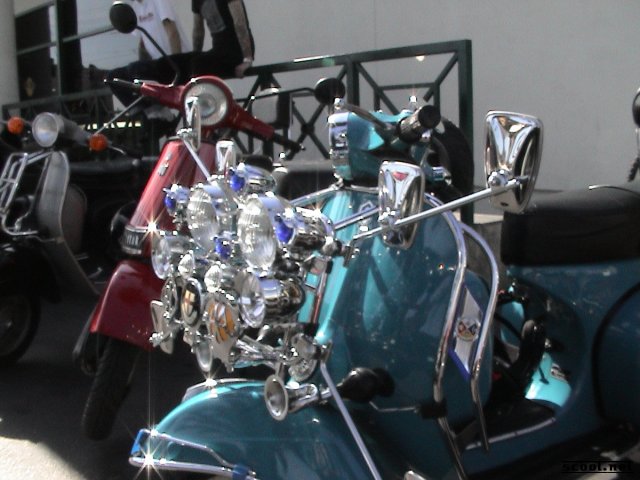 Previous
link to this pic
start slideshow
Next
---
britun Date: 2003-02-26 16:43:12
Comments: Nice bike mate..but the sarcasm is lost on the septics

---

Jedi Chad Date: 2003-02-23 10:18:24
Comments: looks like beeb's sarcasm is lost on yet another hypersensitive soul.

---

Nic Andermann Date: 2003-02-22 13:29:21
Comments: i didn't mean to get this all started, i mistook this bike for that ET4 that is simmeler in color. I'M SORRY

---

Guy Brader RS 69 SC Date: 2003-02-20 19:38:11
Comments: Thanks Cisco! I've been riding scooters in the UK & now the US, since 1984. Most of the accessories that you see on my bike I have collected over the years. I didn't win best "Mod" bike, that award was given to somebody who unloaded their Lambretta off the back of a truck at the scooter show. My scooter was ridden throughout the Vegas Rally. Also I never knew Jet 200's were posers bikes, I thought that the only "true" Lambrettas were supposed to be Innocenti's.

---

Jedi Chad Date: 2003-02-18 13:59:10
Comments: Not all of us ride HD Sportsters, sport.

---

illnoise Date: 2003-02-18 10:07:26
Comments: Jet 200s are poseur bikes too. heh.

---

Cisco Rat LVSC Date: 2003-02-18 08:23:17
Comments: Thats Guy Braders bajaj. He is an old school mod, you might remember him from the Threads from back in the 80's. you should see his TS1 kitted jet 200. Trust me, hes not a newbie with time and money on his hands, hes the real deal.

---

Nic Andermann Date: 2003-02-17 18:58:50
Comments: sorry i thought this was that ET P.O.S.

---

Nic Andermann Date: 2003-02-17 18:56:22
Comments: why do people post pict's of this piece of S**T yippi you bought a new scooter and bolted crap on it F**K this new scooter twist n go junk

---
If you would like to leave a comment for this picture please log in.