Previous
link to this pic
start slideshow
Next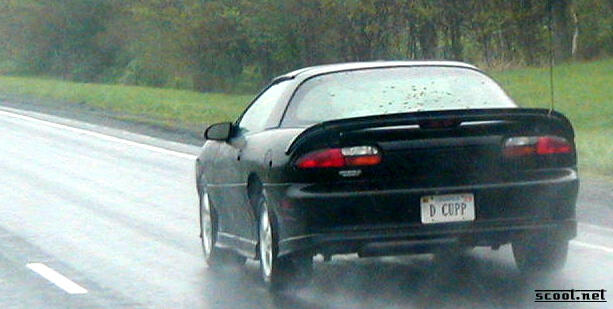 Previous
link to this pic
start slideshow
Next
---
paul Date: 2002-04-26 07:06:33
Comments: Amy picked one out that said "POOH CUB" there were these two really stylish later middle aged guys in the geo tracker.

---

illnoise Date: 2002-04-22 09:22:35
Comments: it's president bush, off to do doughnuts in the secret service parking lot!
http://reuters.com/news_article.jhtml?type=humannews&StoryID=855166&fromEmail=true

---

Ian Date: 2002-04-22 09:02:37
Comments: Like the Porsche we saw last year near CoF with "HeavnMtl"
Scary town...

---

robby Date: 2002-04-22 07:55:07
Comments: i saw a plate on the way back that said MY ROBBY.

---

Phil Date: 2002-04-22 00:26:52
Comments: Yep, the license plate says D CUPP....Bitchin' Camaro.

---
If you would like to leave a comment for this picture please log in.