Previous
link to this pic
start slideshow
Next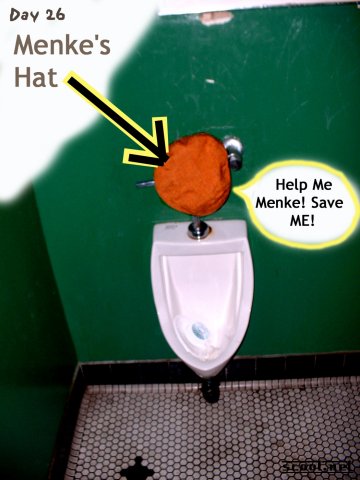 Previous
link to this pic
start slideshow
Next
---
Keizer Soze Date: 2003-09-29 14:02:29
Comments: Tick, Tock, Tick, Tock. WE make this slightly easier for you. This is where you should post your paper at-
http://scooterbbs.com/cgi-bin/board/dcboard.cgi?az=list&forum=DCForumID3&conf=DCConfID4
Does that help? Do you need to check spell check yet? Or is Ms. Chelsea crossing all your "t's"? We wait and expect big things. Do not disapoint us.
KS

---

Kiezer Soze Date: 2003-09-29 08:42:49
Comments: Tick, tock, tick, tock. We are waiting. I hope we are not disapointed.
KS

---

Kiezer Soze Date: 2003-09-28 23:50:59
Comments: Day 26:
Tick, tock,tick, tock, we are in the main stretch Mr. Menke. We look foreword to reading your essay on how you love your hat on the scooterbbs.com in the anything section. Please do not disappoint us again. It's a Monday after all and we hope your hang over isn't so bad that you can't complete this simple task.
Kiezer Soze.

---
If you would like to leave a comment for this picture please log in.