Previous
link to this pic
start slideshow
Next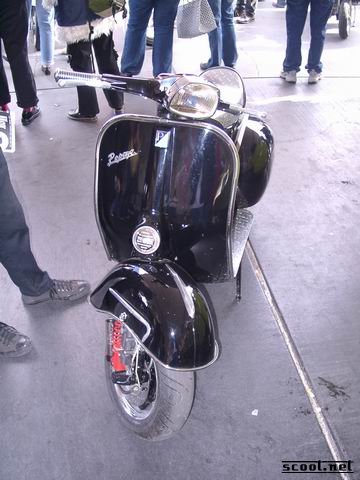 Previous
link to this pic
start slideshow
Next
---
Captain America Date: 2004-02-24 10:54:32
Comments: From what I've read on this site, you shuold have
left this scoot at home and brought the origial
piece of shit from whitch it came.
Great effort and the scoot was ridden.

---

popeye Date: 2004-02-16 18:40:05
Comments: Silly Rabbit trix are for kids-I used the fender, cowls and MK1 door from a rot box GS and cut the door&hinge into the SS

---

Date: 2004-02-16 17:25:11
Comments: that's what i said.

---

popeye Date: 2004-02-16 15:46:11
Comments: close, but no cigar...its a GSS GranSuperSport MK1-


---

Date: 2004-02-16 13:50:22
Comments: what's up with that bike? looks like a gs MK1 with a trapazoid headlight....

---

matt Date: 2004-02-16 04:18:53
Comments: Hey that badge I made looks pretty good.

---
If you would like to leave a comment for this picture please log in.