Previous
link to this pic
start slideshow
Next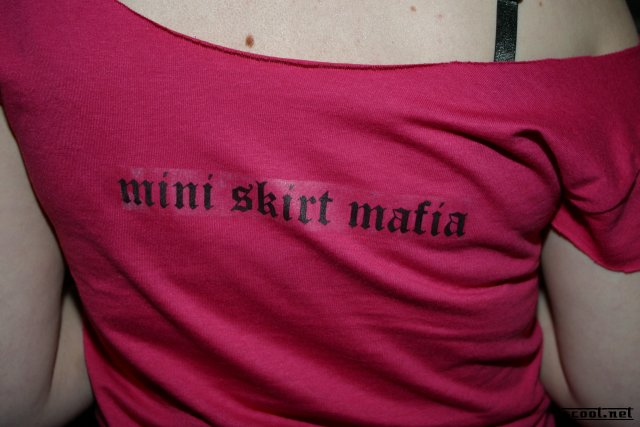 Previous
link to this pic
start slideshow
Next
---
Roxanne Fox Date: 2004-05-05 21:25:01
Comments: Oh, devin and the MM are always whining about how no one "gets" them--i think the problem is that everyone does, and no one gives a flip. SPM--holdin' it down!!!

---

Don Date: 2004-04-08 09:20:22
Comments: Ribbing - for her pleasureŽ!

---

regan Date: 2004-04-08 09:14:03
Comments: My dear, sweet Devin... I think maybe the "scooter" faction weren't keen on your 'belts' for the same reason my mom throws pillows at the television when Christina Aguilara comes on. But to disprove your point, I'm not in the immediate 'scooter group' and I wasn't fervent to you ladies either.

---

carrie Date: 2004-04-08 06:52:32
Comments: Bwahahahaha...scooter people are some of the nicest, most welcoming people I have ever met. Loosen up and learn to take a little ribbing.

---

devin Date: 2004-04-07 16:18:17
Comments: i think it's really funny how all the scooter people hated us as soon as we walked in the door. just 3 girls out trying to celebrate a birthday at their favorite home town bar. and i found it odd that no one talked to us they just hated us because of what we were wearing. what kind of shit is that? all we learned from that night is scooter people are mean and unwelcoming to people not in their immediate "group".

---

carrie Date: 2004-04-02 16:49:35
Comments: yea, wish I could take credit for it...lol

---

sweat pants militia Date: 2004-04-02 07:56:57
Comments: hello...??? i DID think of that. its my gang.

---

regan Date: 2004-04-02 07:33:47
Comments: Damnit, Carrie.... why didn't we think of that?!

---

carrie Date: 2004-03-30 09:19:32
Comments: Sweat pants militia, REPRESENT!

---

sweat pants militia Date: 2004-03-30 07:42:55
Comments: iron-on transfer, huh? our sweat pants are silkscreened.

---
If you would like to leave a comment for this picture please log in.