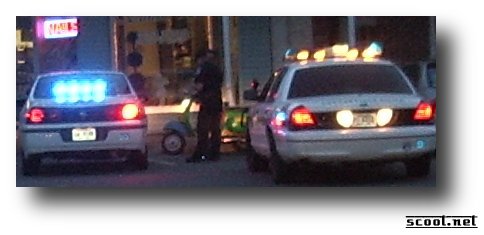 previous - go to the gallery this picture came from - next
change delay 3 - 5 - 10 - 15 - 30 - 60 - 5 mins - 10 mins
If you want to leave a comment on this picture, click stop slideshow

dawn johnson Date: 2006-06-19 13:07:22
Comments: What I love about this is the fact that it takes 2 cops to pull over, write a ticket to, and harass poor Joe. If you're not from a particular state how are ya suppossed to know? Granted as the cops in Tunnel Hill told Dave "you should research before you come" Even when I'm in states that don't require a helmet I still wear it, I'm a shitty rider tho!
fuckers! Sorry Joe!

---

Art.in.memphis Date: 2006-06-19 11:38:11
Comments: Doh! We've got to change this in Tennessee.
STATUTE:
Title 55. Motor and Other Vehicles. Chapter 9. Equipment -- Lighting Regulations. Part 3--Required Equipment on Motorcycles and Motor Driven Cycles. Section 55-9-302. Crash Helmet Required For Driver and Passenger. :
"(a) The driver of a motorcycle, motorized bicycle as defined in chapter 8 of this title, or motor-driven cycle and any passenger thereon shall be required to wear a crash helmet of a type approved by the commissioner of safety."

---