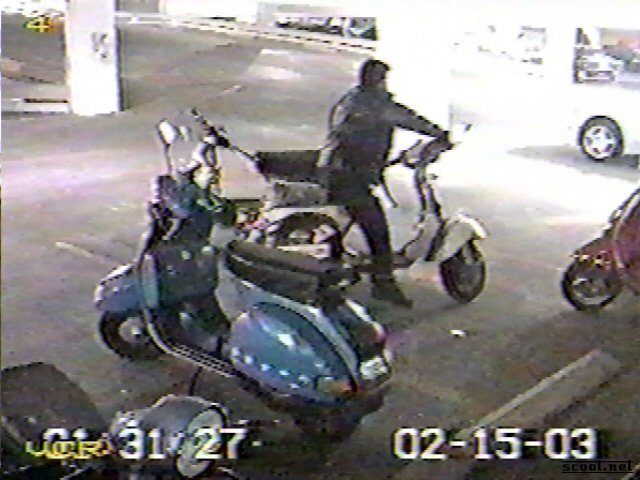 previous - go to the gallery this picture came from - next
change delay 3 - 5 - 10 - 15 - 30 - 60 - 5 mins - 10 mins
If you want to leave a comment on this picture, click stop slideshow

David K Date: 2003-03-06 18:25:31
Comments: When it comes to theft prevention, p-range ignition switches aren't all that hot. All you need is a screwdriver. I used to be able to switch on my P125x's ignition switch with a nickel if I held it right.

---

brennan Date: 2003-03-06 10:29:26
Comments: im pretty sure that bike had a crazy kitted engine...and if im right, then he knew what was up.

---

MarkH Date: 2003-03-05 17:15:02
Comments: Are Ps easy to pick or something?

---

GSTom Date: 2003-03-05 16:52:39
Comments: So in the space of two minutes, this guy was able to bypass the ignition, kick it over and drive away? This guy knows what he's doing. No offense, but there were nicer scooters to be had - why did he zero in on yours?

---

David K Date: 2003-03-05 15:26:03
Comments: Well, besides the fact that he's short and wears husky sizes, you know that he can also ride a scooter that shifts on the bars. Not a common skill.

---

Percy Date: 2003-03-05 15:22:15
Comments: There is a logo on the back of his jacket....
Does it read Hard Rock Cafe'?

---