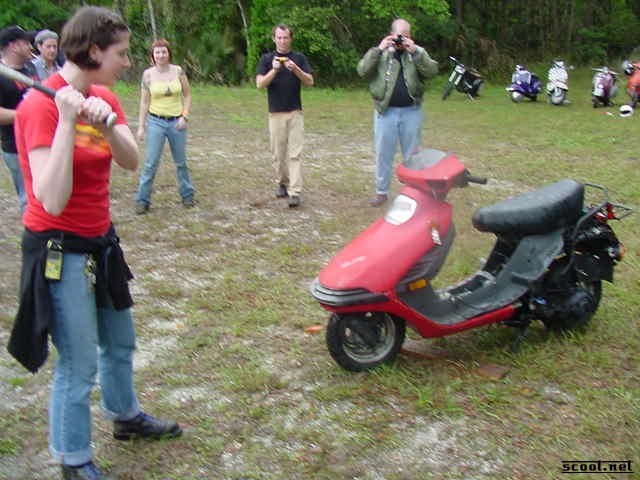 previous - go to the gallery this picture came from - next
change delay 3 - 5 - 10 - 15 - 30 - 60 - 5 mins - 10 mins
If you want to leave a comment on this picture, click stop slideshow

Jedi Cha Cha Date: 2003-03-24 10:27:16
Comments: I saw a bajaj the other day.

---

pato Date: 2003-03-24 08:30:38
Comments: where you saw a bajaj? mr magoo........

---

Jedi Cha Cha Date: 2003-03-20 10:12:44
Comments: No the sKoot Klutch Klan only drives scooters with glorious european heritage, with a Klutch, two stroKe motors, and gears, the way the lord intended it to be. We do not recognize the mixed heritage of such tainted sKooters as the Bajaj with its 4 stroKe motor!

---

pato Date: 2003-03-19 19:27:03
Comments: different people has different taste....so if you guys don't have nothing positive to say...just keep quiet...very simple,provably you drive a twist & go MARICA scooter...

---

Jedi Chad Date: 2003-03-17 08:28:46
Comments: "We must secure the existence of naked rides and a future for geared metal scooters." - the legendary "15 words" of the sKoot Klutch Klan

---

rye Date: 2003-03-16 23:37:56
Comments: The time in which we live is very exciting and any like minded individual would be proud to be an associate or supporter of this grass-roots movement to take back Scootering. The Knights of the sKoot Klutch Klan will in the years to come, become recognized by the American people as THE SKOOT KLUTCH MOVEMENT!

---

Jedi Cha Cha Date: 2003-03-16 15:44:14
Comments: the secret rituals of the sKoot Klutch Klan..

---

snag Date: 2003-03-09 19:29:17
Comments: you go girl!

---