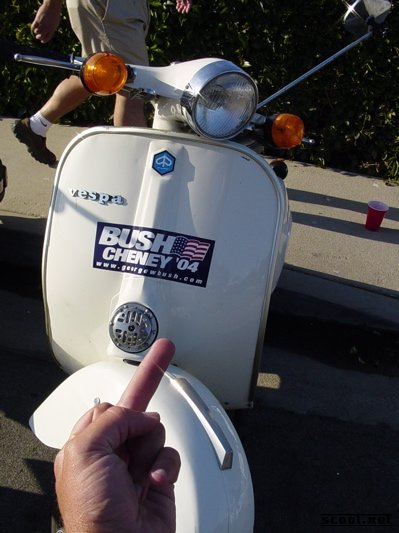 previous - go to the gallery this picture came from - next
change delay 3 - 5 - 10 - 15 - 30 - 60 - 5 mins - 10 mins
If you want to leave a comment on this picture, click stop slideshow

Milan Date: 2004-09-26 12:56:27
Comments: Your Town? Does it belong to right wingers only? There's time and place for everythingthing. Politics at the rally is just poor taste.

---

Date: 2004-09-07 19:05:11
Comments: punks ass, come to my town with that bullshit yo!!!

---

Milan Date: 2004-09-07 11:03:40
Comments: No, the only pathetic thing is that you are going to vote for that loser. Leave politics at home when you come to a rally.

---

spock Date: 2004-09-07 09:34:08
Comments: My name is Spock, and I approve of Milan's message.

---

Ride Monitor Date: 2004-09-06 23:34:39
Comments: I think that's the only pathetic thing a lot of people are gonna be able to do after Bush wins another term in office!!!

---